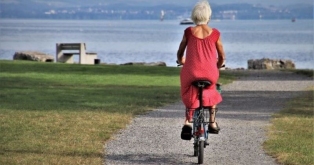 09 Sep 2020
Some Good News about Getting Older
Admist all the doom and gloom in the news about a 2nd wave and more lockdowns, I thought it would be good to share some positive information.
I read recently 'The Ten Steps of Positive Ageing' by Guy Robertson, written this year so bang up to date. What an eye-opener. The media portrays a pretty dismal picture of getting older, whether its as a burden on the NHS, or a drain on the economy, or the misery that accompanies the ageing process, ageism is rife. So I loved reading this book for a different viewpoint, particularly his chapter on fake news. (Guy is careful to point out though the health inequalities across the country, and that care for those at home is woefully inadequate. And of course this book was written before Covid19 so the impact of that is to be taken on board).
Here are my favourite takeaways –
For those currently aged 65, they can expect to be in 'good' or 'very good' health for 60% of their time left
64% of over 80 year olds don't need any help with day to day activities such as getting dressed or eating
only 3% of older people live in a care home, and the vast majority of these are over the age of 85
over 75s have the greatest satisfaction with their income, 58%, compared to only 40% of the 45-54 age group.
Guy estimates that the older adults contribute a net £40b to the economy in 2010, so not draining it as the media would have us believe
68% of the over 80s still go out to socialise
60% of older adults felt ageing had been a positive experience
dementia is most certainly not inevitable, brain capacity can increase with age (though 'use it or lose it' does ring true)
amongst 70-80 year olds, 54% of men and 31% of women report having sexual activity, and women reported sex to be more satisfying than in their 40s!
and lastly countless surveys have shown that the 60-90 year olds are the happiest age group (any connection there?!)
So, that makes for happy reading. Something to be positive about. Does that make you feel good?
The rest of the book lists Guy's 10 steps to ageing well. What interested me here was what was missing – I expected to see chapters on health eating, exercise etc. (And to be fair when it comes to Alzheimer's the advice certainly is to start with these lifestyle changes as early as possible as they are crucial for prevention.) Instead Guy emphasises over and over the importance of our attitude, our mindset, our mental resilience. It appears ageing is in the mind, and there is plenty we can do now, and in later life, to give ourselves the best ageing opportunities. This isn't to say that physically how we look after ourselves isn't important, of course it is – we all know that as we age eating well, boosting our nutrition with supplements where needed, moving around, being social, all have a big role to play. But it is refreshing to find a new approach to ageing here.
As a Chartered Accountant, there aren't often overlaps with being a Health Coach, however this book did bring home one to me – investment. For a comfortable, happy retirement we need to invest in ourselves. Both financially if possible, and in our health and wellbeing. Its not about living forever, but about having the best quality of life.
To me, it is worthwhile spending a little time and effort now to build up these good practices, to reap the benefits decades down the line. And, enjoy the journey along the way.
If you would like any help on how to start healthful behaviours, for the mind and body, for later life, then please get in touch
Cathy Houghton, Health Coach