SOL GOLD MULTI VITAMIN LIQUID 30 OZ
Source of Life® GOLD is the world's most exciting whole
food–based multivitamin, mineral and enzyme-rich whole
food supplement. In fact, it is the gold standard in natural
supplementation. Source of Life GOLD nutritionally
supports total body health and vitality with even more of
the revitalising nutrients that have made Source of Life
synonymous with the Guaranteed Burst of Energy TM*!
Mouthwatering, tropical fruit–flavoured Source of Life
GOLD Liquid features:
• Essential nutrients: 13 vitamins and 8 minerals
• Revitalising trans-resveratrol and CoQ10
• Gold Standard Whole Food Complex (guava, holy
basil, lemon, acerola fruit)
• Spirulina, Whole Food PhytoAlgae & Mushroom Blend:
Nutrient-dense oceanic superfoods and blend of
outstanding mushrooms
• 25 μg (1000 IU) vitamin D3 and 100 μg vitamin K2
• Whole Food Prebiotic Blend with FOS,
apple pectin and modified citrus pectin
• More than 110 colourful fruits and vegetables *Burst of Energy from energy-liberating B vitamins and vitamin C:
Vitamin C, thiamin, riboflavin, niacin, folic acid, vitamin B12, biotin,
pantothenic acid, calcium, magnesium, copper, manganese and iodine
contribute to normal energy-yielding metabolism. Vitamin C, riboflavin,
niacin, vitamin B6, folic acid, vitamin B12, pantothenic acid and
manganese contribute to reduction of tiredness and fatigue.
**Vitamins C and E, riboflavin, selenium, copper, manganese and zinc
contribute to the protection of cells from oxidative stress. Oxygen
Radical Absorbance Capacity (a measure of antioxidant activity).
Do not exceed recommended serving. Not a
substitute for a varied diet. KEEP OUT OF SIGHT AND REACH OF CHILDREN.
Price: £44.95
Nature's Bounty on Twitter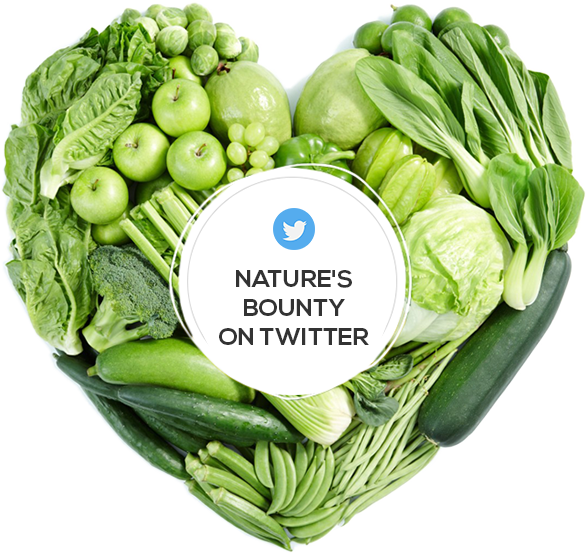 natures-bounty

@Nature_Bounty

Another January, another diet? by Cathy Houghton Blossom Health Coaching Read the full blog on our website https://t.co/fpn8BWM06b

natures-bounty

@Nature_Bounty

#Movember #MensHealth Awareness Month. Health-supporting herbs to maintain peak well-being. Read the full article https://t.co/BXuUZHsfeg