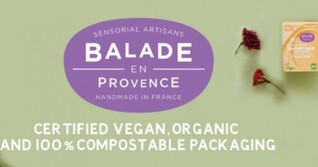 17 Mar 2021
Balade en Provence Zero Waste Organic Products
A little history about this fabulous new zero waste company.
Balade en Provence are an award winning and innovative waste-free organic cosmetics company from Provence and they manufacture sensorial beauty bars for hair, face and
body.

BALADE EN PROVENCE" was born in a small village
of Provence called Opio, where the fragrant fields of
lavender, olive trees, roses and other flowers are a
constant reminder of the natural richness of our
region.

The name "BALADE EN PROVENCE,"
translated "walk in Provence," symbolizes the
pleasure of walking in the fields of Provence and
enjoying the peacefulness and natural beauty of the
region.
How the bars are made -
The bars are made using a cold process method, this means we do not heat the oils so they retain their natural properties.
The bars are rested for at least four weeks on wooden shelves to allow time for the oils to blend. This process heightens our bars nourising and soothing properties which leaves the skin feeling soft and hydrated.
All that makes these bars so special and with a brand mission promise to positively impact the lives of their customers and community through sourcing and quality of ingredients along with a pledge to care for the environment by creating zero waste and water free beauty products they are definitely a wonderful addition in our store.