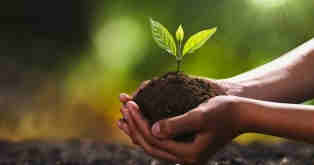 22 Apr 2021
Celebrate Earth Day with Zero Waste Brands
Sustainable, eco-conscious and kind to our planet, these buys are essential for earth day and beyond.
This year, the theme for Earth Day (April 22nd) is Restore Our Earth™. Reminding all of us to make more environmentally-aware choices, 2021's theme highlights the need to start small and ensure our lifestyles don't contribute to harmful practices that affect the environment.
Balade En Provence - The Eco Beauty Brand
Providing waste-free, vegan and certified organic beauty bars for your hair, face and body, Balande En Provence was born in France. Their solid bars use biodegradable packaging and offer an eco-conscious alternative to water-based products that are packaged in plastic. Using only naturally powerful ingredients, they are not formulated with any sulphates or chemicals.
We Love The Planet Sunscreen
Complying with various laws for the conservation of coral reefs, this vegan formula is perfect for the whole family. Suitable for all skin types, it is also hypoallergenic and water resistant.