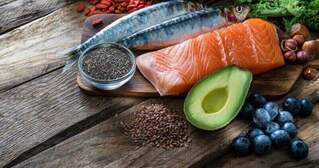 27 Jan 2021
What is Omega 3 Good For?
HEART OF THE MATTER
Taken from an article by Karen Tenelli
The effects of omega-3 fatty acids on the cardiovascular system have been extensively studied.
"There are many well-controlled studies that show fish oils are beneficial for heart disease" states Keri Marshall, MS, ND people with the highest levels of omega-3s in their blood saw their risk of death fall 27%, mostly due to a drop in cardiovascular mortality.†
The American Heart Asso­ciation has noted, "Research has shown that omega-3 fatty acids can reduce your risk of heart disease and stroke."†
Omega-3 fats help the head as well as the heart. "I like to think of omega-3s as 'brain boosters,'" says Keri Glassman, RD, CDN "This means improved memory, reduced stress and better mood."†
BETTER VISION AND OTHER BENEFITS
Another part of the body for which omega-3 seems to have a special affinity is the retina, the light-sensitive tissue at the back of the eye that translates images into electric signals and sends them along to the brain.
DHA accounts for between 50% and 60% of the fatty acids in rod outer segments (ROS), key components in the retinal cells responsible for low-light vision. This may help explain why higher omega-3 levels have been linked to a lower risk of age-related macular degeneration, a major cause of blindness.†
Scientists keep finding other ways that omega-3 fats may enhance well-being. Fish oil has reduced allergic reactions in children and reduced pressure sores in critically ill hospital patients. Researchers also believe omega-3s may be helpful in dealing with non-alcoholic liver disease and psoriasis, and that these fats play roles in maintaining bone and kidney health.†
Getting to the gym and learning to chill? That's great—but don't forget to add omega-3 to your wellness checklist.
References
Karen Tenelli
Keri Marshall, MS, ND
Keri Glassman, RD, CDN, author of The New You and Improved Diet (Rodale)